The only ecosystem blog you'll ever need
The latest news, interviews and more from the ecosystem management-as-a-service people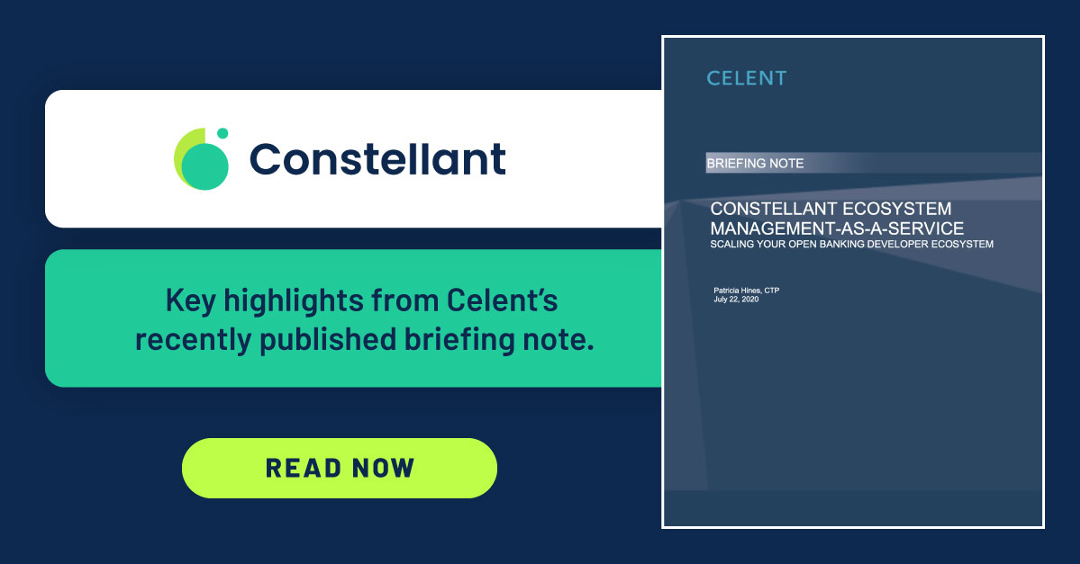 Briefing Note Highlights: Scaling Your Open Banking Developer Ecosystem
September 11th, 2020
Many API portal owners are focused on the API production side, not the API consumption or developer experience side.
–Bhavesh Patel, President and CEO, Constellant
Banks have already launched open banking API developer portals, some in response to a regulatory mandate. But how can they have a market-driven approach to maximize business value from APIs? In a recent briefing note published by Celent, author Patricia Hines, CTP explains best practices behind creating an effective API ecosystem for banks. Here are a few key takeaways on how to treat APIs as a product delivery channel and treating developers as a new type of customer:
The Problem
There is little business value in creating an API library if you don't make it easily accessible via a developer portal and related API-enabled ecosystems like parent programs and customer-facing marketplaces. Why, you might ask? APIs are a delivery channel, a new product set with developers as the customer base. A robust portal is not enough to keep developers engaged. Traditional API management platforms fall short without analytics, targeted functionality, or marketplace management.
Constellant Steps In
So how do we help? At Constellant, we assist in increasing developer engagement, accelerating revenue and innovation. With our coined offering, EMaaS, we help firms manage twice as many developers with one tenth of the staff. With over 18 years of experience and customers including Fortune 500 companies, we have two solutions that make up our EMaas offering: dpEngine and Managed EMaaS. With these two solutions, we simplify and streamline every stage and drive an ecosystem's revenue and innovation.
Our Solutions
dpEngine is a cloud-based platform with role-based access and workflow automation. This offering supports multiple banking use cases within a single instance. Our Constellant-managed EMaaS is for those that are looking for help with management of their ecosystem. With this solution, we offer full developer or partner lifecycle management tools.
Implementation and Opportunities
We work directly with clients on vision and strategy to create a custom made ecosystem. Our off-the-shelf software generally takes one to three months to implement, but we have launched in as little as 30 days. We solve a wide range of problems for our clients from refining developer experiences to creating partner marketplaces.
Banking and EMaaS
Specific to banks, we assist with PSD2 compliance. Moving beyond passive developer portal engagement, we provide a more robust developer experience. As banks start their API journey, developer experience is essential to a growing ecosystem. Avoid developing specific methods to address a novel need. Instead, strive to create a foundation that will cultivate an efficient ecosystem from the get-go.
Interested in learning more? Check out the complete briefing note here.